Anguilla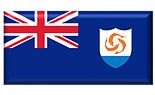 Location
lying east of Puerto Rico and the Virgin Islands.
Economy
A British overseas territory in the Caribbean. An internally self-governing overseas territory of the United Kingdom. Main industries are tourism, offshore incorporation and management, offshore banking, captive insurance and fishing.
Language
English
Legal System
common law
Anguilla Company
Type
International Business Company (IBC)
Name
Name ends with Ltd, Corp, Inc, SA, NV or GmbH.
Capital
No Min. requirement.; Stand Capital US$ 1,000,000
Share
Restriction on the bearer shares issued.
Share Index
Yes
Registered Agent
Yes
Registered Address
Yes
Public Disclosure
No
Min. Shareholder
At least one
Min. Director
At least one
Disclosure of Shareholder
 No
Disclosure of Director
 No
Trading restriction
No
Taxation
None
Financial Statement
Yes
Tax Returns
 No
Account Filing
 No
Audit Report
 No
Accounting
Yes
Incorporation Cost
USD900
Annual Fee
USD850
No avoidable double taxation agreement with other countries.